Personal Injury Experience
From day one, our diverse team will fight on your behalf for the one-on-one care your case and life deserve. Whether you're a victim of a car accident, medical malpractice, seeking worker's compensation, are the personal representative of a wrongful death victim, or more, we are prepared to fight for the compensation you deserve. Our law firm will represent you and we know that every legal case is always…personal.
At Austin Law, we understand the physical, emotional, and financial challenges that injured accident victims face. Our dedicated team  is committed to providing comprehensive legal support to clients in Comal County and surrounding areas. With our experience  and unwavering dedication, we fight tirelessly to ensure that accident victims receive the compensation they deserve. Austin Law can help you navigate the complexities of personal injury law and seek justice for your injuries.
Compassionate Representation:
At the core of our practice, we prioritize the well-being of our clients. We recognize that each personal injury case is unique, and we approach every client with empathy, understanding, and compassion. We take the time to listen to your story, understand your concerns, and develop a personalized legal strategy tailored to your specific needs.
Comprehensive Case Evaluation:
We will conduct a thorough investigation and evaluation of each case to determine liability and assess the full extent of damages. We work closely with accident reconstruction experts, medical professionals, and other relevant specialists to gather evidence and build a strong case on your behalf. Our goal is to establish a clear and compelling argument to demonstrate the negligence or fault of the responsible party.
Expert Negotiation and Litigation:
Whether through negotiation or litigation, we are skilled at advocating for our clients' best interests. We engage in strategic negotiations with insurance companies and opposing parties to seek a fair settlement that adequately compensates you for medical expenses, lost wages, pain and suffering, and other damages. However, if a fair resolution cannot be reached, we are fully prepared to take your case to court and fight for your rights in front of a judge and jury.
Areas of Personal Injury:
Austin Law covers a wide range of personal injury cases, including but not limited to:
Car Accidents: We have experience representing clients injured in car accidents, including those involving distracted driving, drunk driving, and reckless behavior.

Truck Accidents: We understand the unique complexities of truck accident cases and have the knowledge and resources to navigate through the intricate web of trucking regulations.

Motorcycle Accidents: We advocate for the rights of motorcycle accident victims, ensuring that their injuries are taken seriously and pursuing fair compensation.

Slip and Fall Accidents: If you have suffered injuries due to a slip and fall accident on someone else's property, we can help you establish liability and seek appropriate compensation.

Product Liability: We have the expertise to handle product liability cases, holding manufacturers accountable for defective and dangerous products that cause harm.
Contact Us:
If you or a loved one has been injured in an accident, don't face the legal battle alone. Austin Law is here to fight for you. Contact our office today to schedule a free consultation and learn more about how we can help you seek the justice and compensation you deserve. Remember, we work on a contingency fee basis, meaning you don't pay unless we win your case. Let us be your trusted advocates in fighting for your rights as an injured accident victim.
We will always:
Determine the value of the damages incurred
Negotiate compensation that best suits the interests of our clients
Evaluate each case closely to know when it's time to go to trial
If you or someone you love has been injured as a result of recklessness, negligence, or carelessness from another individual in Texas, then turn to the trusted and local lawyers at Austin Law PLLC.
Your Personal Injury Claim
If you were injured due to someone else's negligence, you should speak to a reputable attorney who can assist you with determining the viability of a claim.
If the damage amount or possible recovery amount is not significant, you may find that the attorney's cost to defend your claim may outweigh what you can recover.  Small claims court is an alternative, where you can represent yourself without legal representation.
What Should I Do To Prepare?
Preparation is key!  If you are a victim of an accident, you should compile as much documentation & evidence to support your claim.  Examples include:
Police or official reports documenting the incident
Photos, videos, or audio that illustrate what occurred at the scene, damage to property, injuries, conditions, witnesses
Witness statements, journals, notes or victim statements
Medical records, physical evidence
Insurance information, medical bills, repair receipts, estimates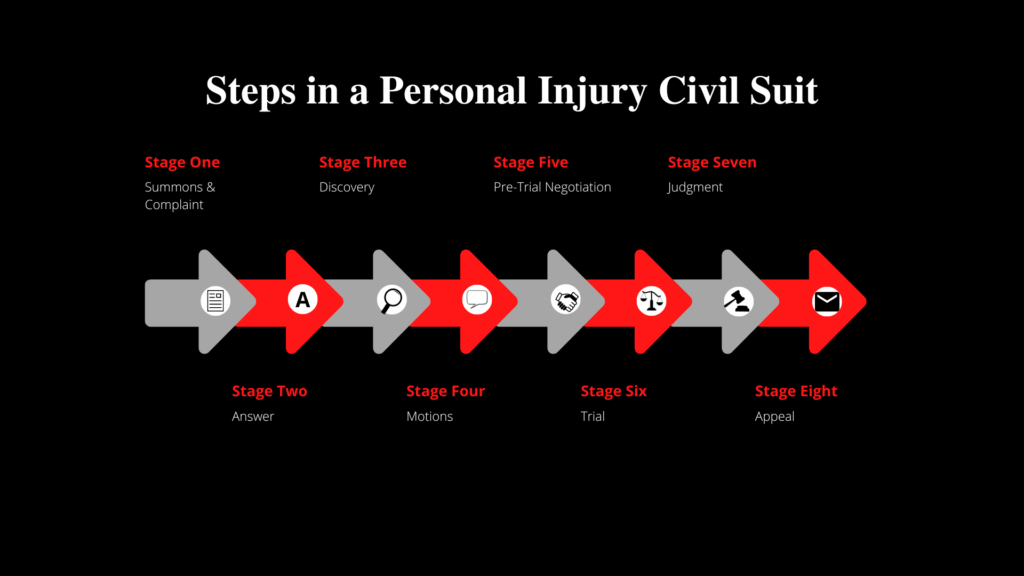 Stage 1: Summons & Complaint
After filing a fee, the complaint is filed which "begins" the lawsuit process.  A complaint includes the parties involved, legal basis for the jurisdiction of the suit, the legal claim and facts related to the claim.
Once the complaint and summons are filed and served, the opposing party must respond in a certain amount of time (varies by  the court and location).
The  response to the complaint is called the "answer." The answer addresses each paragraph of the complaint by admitting or denying the allegations contained in the complaint.
This allows both parties  access to all relevant information including requests for production (one party asks the other to produce copies of relevant documents), requests for admission (party may ask the other party to admit or deny any material fact), interrogatories (questions submitted from one party to another), depositions (attorney for one party will ask the other party (or a witness) questions under oath, and mental or physical examination of a party whose condition may be relevant to the case.
Prior to a trial, parties may use motions to request the court to act or rule on termination of the suit or on a specific part of the case.  Examples of motions are:
Motion for summary judgment
Motion for default judgment
Motion for change of venue
Motion to compel  
Stage 5:

Pre-Trial Negotation
In an attempt to resolve the matter before a trial, negotiations may be conducted, which may include:
Mediation – includes a third-party to meet with parties privately to discuss strengths/weaknesses of their case
Arbitration – includes a third-party to conduct a mini-trial to settle dispute
Settlement – where lawyers meet and discuss the case, make offers and counter-offers to settle the case.
A civil trial consists of these main phases:
Choosing a jury
Opening statements
Witness testimony and cross-examination
Closing arguments
Jury instruction
Jury deliberation and verdict
When a judge has awarded damages, the instruction to the defendant includes a court order to pay the amount of the judgment, which may be by way of wage garnishment, property liens, or requests of discovery to determine assets or sources of income to pay the judgment.
If a party doesn't agree with the result of the trial, they can appeal the decision to a higher appellate court.
After reviewing the briefs and the record, the appellate court will release an opinion to affirm or reverse the lower court's decision.